Notes on Batch Scanning Film Strips
Since the MF Film Holdersä allow you to scan multiple frames from a single film strip, you can set your scanner software up to scan multiple frames as a single task. This is a real a time, hassle and cost saving feature which means the MF Film Holderä will pay for itself many times over!!
Each user will have to perfect their own scanning "workflow," but here are some tips to get you started. If you have questions which are not answered here, please consult your scanner software's manual/help file.
**Please Note - If terms like dpi & ppi, white point, black point, histograms and curve functions are "foreign terms" to you, you should really read up on scanning basics at the wonderful ScanTips website: www.scantips.com
Go directly to tips for:
EpsonScan Twain Software (ships with Epson® scanners)
I recommend this software for novice users because this is the easiest software to set up for batch scanning. I like the fact you can easily create an individual selection marquee for each image on your film strip and then separately adjust the curves, color balance, etc., for each image! Read the EpsonScan's help file for complete information, but here are the basics to get you started. These steps are based on the Epson® 3200, 4870 and 4990 driver settings although the 2450, 3170 4180, 4490, V500/V600/700/750, etc., software options should be similar. These steps will work either via the EpsonScan Photoshop plug-in or via EpsonScan by itself. If your computer is "speed challenged" or doesn't have much RAM memory, you may want to scan outside of Photoshop via EpsonScan (with Photoshop closed) so that you can scan directly to a file and thus conserve computer resources for better performance.
Start EpsonScan

Enter into Professional mode

Correctly set your normal parameters in the "Original," "Destination," and "Adjustment" sections of the EpsonScan window

Set the Preview function to "Normal," not "Thumbnail"!!! (click on the small arrow to the right of the Preview button to change this)

Click on Preview

When the preview window opens and displays the preview, click the marquee erase button (top left icon in marquee box of the preview window) until all previous crop boxes are erased

Draw a crop box around each frame on your film strip

Try not to include blank areas of your film or black portions of the MF Film Holder

ä

within the cropped areas. This will help you adjust your exposure and curve settings later.

You can switch between each marquee crop box and make a box active by clicking one time inside an inactive crop box

An active crop box will have "marching ants" around it. The active crop box can be modified by grabbing one of its edges and dragging it to a new position

Click on the "Zoom" button to magnify the view of the active crop. This will help you to make precise cropping adjustments. Click on the "Preview" icon to zoom back out an thus view all your cropping selections again.

You can manually vary the exposure and curve settings for each cropping marquee!

Make just one of the selection marquees active

Click on the histogram and/or tone correction and/or image adjustment buttons. Make your desired adjustments. Make sure to close the adjustment dialog box by choosing "Close."

Select another marquee and make any desired adjustments

When finished individually adjusting each frame, click the "All" button found in the preview window to activate all of the marquees

All the marquees should be active now and have "ants" (an outline made of dashes) around them (only one will have "marching ants" though). If you do not have "ants" around all of your selections, the scanner will not batch scan!

Click scan to start the process and watch it do your work for you!

If you use the EpsonScan by itself, the files will be saved to disk. If you use it as a Photoshop plug-in, the files will be transferred to Photoshop's working space.

You can elect to save these settings (including marquee selections) as a file in "Settings" area. As long as your MF Film Holder

ä

and film strips/frames are placed in the exact same position each time and don't require exposure adjustments, a set of "saved settings" should work for multiple sets of film strips. If in doubt, start from scratch with each film strip.

To save the currently selected settings, type a new name in the Settings list box (if it will let you) and then click the Save button. The option to save a named file appears to have been deleted with newer versions of EpsonScan so you must save the settings file under the generic name EpsonScan offers.

To apply a saved setting to scanning, select the name from the list box, and then click the Preview button. The preview image reflects the settings you have selected.

To delete a setting from the list, select the name and then click the Delete button.
"Silverfast SE" does not allow you to click the scan button and then scan multiple marquee selections at one time into separate files. At the same time, it will let you choose multiple marquee areas and scan them one after the other which can save you some time. The basic selection and adjustment procedures are the same those listed below for Silverfast Ai, but again, you can't do a true batch scan (Silverfast wants you to upgrade to Ai!).
"Silverfast Ai" does let you select multiple marquee areas and then scan them in a batch, so if you use Silverfast SE you may want to consider upgrading (info here). Here is an excellent video tutorial from Vincent Oliver at Photo-i in regard to batch scans with Silverfast:
Photo-i's Video About Setting Up a Batch Scan
VueScan
VueScan is a high quality, third party scanning software program written by Ed Hamrick that now supports the most Epson® scanners. Information about this software and a free trial download can be found at http://www.hamrick.com/vsm.html.
A few things to keep in mind when using VueScan in combination with the MF Film Holderä :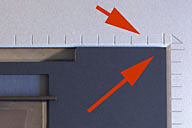 If you plan to use a standard set of "X offset" and "Y offset" values instead of manually drawing a starting crop box each time, you must o

rient the film strip itself inside the MF Film Holder

ä

at the exact same starting position/location each time. In this case, I suggest aligning the first film frame at the very top end of the film holding channel area EACH TIME as shown in the image below: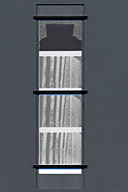 If your camera has erratic spacing between image frames (quite common), you will need to compensate for this behavior. My Mamiya has shown that it can occasionally vary the spacing by up to 1.5mm. To get around this, I have made the frame size cropping measurement just a little bit larger than my actual frame size. This has worked out well for me and I just crop the excess space off when editing in Photoshop (better to have too much than not enough!).

VueScan is very powerful, but it can be daunting to get setup correctly. Correct scanning exposure across multiple frames when using VueScan may involve extra steps such as border %, buffer %, exposure lock, film base determination, etc. This has to do with the particulars of VueScan and not the MF Film Holder

ä

, so please refer to your VueScan User's guide, the "comp.periphs.scanners" UseNet newsgroup, or Ed Hamrick for help with these issues.
Nobody can explain batch scanning better than Ed, so if you own this software the first step is to refer to the "VueScan User's Guide" by Ed Hamrick which states:
VueScan normally previews or scans a single frame at a time. If you want to do multiple frames at a time, use the "Input|Batch scan" option.
You can significantly speed up batch scanning on some scanners by setting two options so the preview won't be done when you do a scan. To do this, set the cropping for all the frames, then clear "Crop|Auto position". In addition, if the "Input|Lock exposure" option is displayed, turn it on and set "Input|RGB exposure" to either "1" or a value greater than one that won't overexpose any of the images.
You can batch scan multiple photos, slides or film strips on a flatbed scanner if you lay them out in a rectangular grid and use the following procedure: (Also see my steps listed below which include some extra steps not listed here that you might forget)
Press the Preview button
Set "Crop|More options" to "All"
Set "Crop|Crop size" to the size of each image (don't use "Auto")
Move the crop box to the top left image (hold the shift key)
Set "Crop|X images" to the number of images across
Set "Crop|Y images" to the number of images down
Set "Crop|X spacing" to the distance between the left sides of two images
Set "Crop|Y spacing" to the distance between the tops of two images
Set "Input|Batch scan" to "All"
Press the Scan button
As an example, here are the inputs I use to scan a four frame film strip from my Mamiya 645 1000S camera. Remember:
These input numbers will vary based on image size (e.g. 645 vs. 6x9), number of images per strip (e.g. 6x6 will only have three images), and any variability in the distance between each image on film strip!

As stated above, you must place the MF Film Holder

ä

in the same spot on the scanner each time and you must place the film strip in the same starting spot each time.
Individual steps I use for my 645 film strips (which may be different than yours):
· Set all other parameters on all of the tabs besides the "Crop" tab including setting "Batch Scan" to "All" on the "Input" tab!
When finished, go to the "Crop" tab

On the "Crop" tab, set your crop units to "mm"

Press Preview

Draw your box around your first film frame

Make sure to get this right because all other cropping measurements for the other images are based on this!

Hold the "ctrl" key to move the whole box (if necessary)

You can also tweak the box position using the X and Y offset arrows!

For better previews and/or if you are using auto exposure settings, try not to include any blank areas of the film strip or black areas of the MF Film Holder

ä

When you get the crop box positioned correctly, note the values in the "X offset" and "Y offset" boxes. As long as you position the holder and film strips in the exact same position each time, you can just input (repeat) these settings

The following values are then inputted:
"Crop|X size" 56.5
"Crop|Y size" 43
"Crop|X images" 1
"Crop|Y images" 4
"Crop|X spacing" Not applicable because you are just scanning one column of images
"Crop|Y spacing" 50
When you have finally tweaked these settings to your liking, make sure to save them for future use by going File > Save Options and save them under a new and appropriate description. Just load these settings/this profile the next time you want to batch scan a strip of medium format film! (Be warned - if you update to a different version of VueScan, a settings file created in a previous version of VueScan may cause errors and not work with the newer version of VueScan.)
Click on the following links to go to:
Back to the Page You Were Previously Viewing
E-mail Contact: scanning@betterscanning.com
All information contained in this website ©2021 by DSF OmniCorp, LLC and Doug Fisher. This information may not be reproduced in whole, part or spirit without written permission.
Patents Pending. All intellectual property rights reserved.