The Dual MF Film Holderä For Agfa®, Microtek® and Similar
Your Solution for Better Flatbed Scanning of Medium Format Film Strips
 <![if !vml]>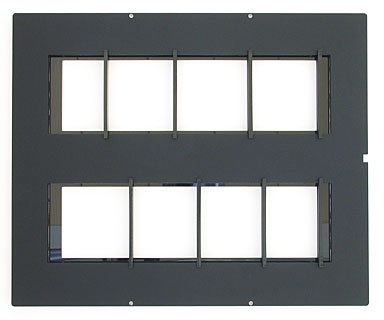 <![endif]>
Allows you to easily scan two whole strips of 120/220 film frames at one time!
Advantages:
You don't have to cut your film strips into single frames!

Allows you to work faster, more efficiently and safely with your medium format film strips
<![if !vml]>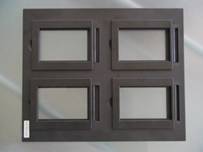 <![endif]>
Your Scanner's Current Holder Should be Similar to the One Shown Above
Infinitely variable film frame scanning length

with the T-Lock system

(includes 8 T-Locks)

Adjusts to accept "645", "6x6", "6x7", "6x9" film.

 

Scan up to 8 "645" frames, 6 "6x6", 4 "6x7" or 4 "6x9" frames at once when utilizing both film channels (4 "645" frames, 3 "6x6", 2 "6x7" or 2 "6x9" frames per film channel).

 

Depending on the size of the gap between frames, some 6x7 users may be able to shift the film in the holder in order to then scan a third frame per strip.
Each of the two film channels can scan 205 mm in one pass from each of the strips and the film channels can accept film strips up to 223 mm in total length.

 

Helps maintain flatness

with your film even if the film is cut to odd lengths

because the T-Lock inserts can be placed at any position within the film channel of the Dual MF Film Holder

ä

.

 

(T-locks do require about 4 mm of frame spacing between frames if you don't want any masking to occur.)

Allows you to crop down to just one film frame per channel in a strip for maximum flatness of that film frame during scanning if so desired

Suspends film in the film holding channel at the same approximate height as the OEM holder

Allows you to scan panoramic images made on 120/220 film such as 6x12 and 6x17

Accepts 120 and 220

films that meet the ANSI width standards

Durable

construction that is computer cut using highly accurate laser technology

Pays for itself quickly

by allowing you to be more efficient with your time
Low cost for a great design –

 

only $99.95 for most scanners!

(holder and 8 T-Locks)
Please Note:  Because each holder requires a great deal of manual labor to create, the Agfa®/Microtek®  holder model will only be available in limited quantities.  When components are in stock, orders can take 3+ days to fulfill.  The current demand level has been adding additional delays.  Thanks for your understanding.
Click on the following links for important additional information regarding:
See How it Works!!!! - Using the Dual MF Film Holderä For Agfa®, Microtek® and Similar
ORDER NOW - Pricing and Ordering
These Flags Represent Some of the Places Where Our
Product Owners are Located Worldwide!!!
<![if !vml]>

<![endif]>
For More Information, e-mail us at:  scanning@betterscanning.com
All information contained in this website ©2021 by DSF OmniCorp, LLC and Doug Fisher and it may not be reproduced in whole, part or spirit without written permission
Patents Pending