The Variable Height MF Film Holderä for
Canon® 8800F Plus 9000F I and II Series Scanners
The optimum film suspension height for your particular scanner unit may actually vary from the standard approximate .7 mm suspension height provided by your current holder. A variable height holder allows you to compensate for this difference!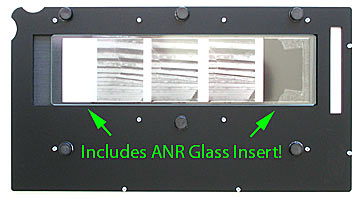 Allows you to easily scan 120/220 film frames!
Designed to work with the:
Canon® 9000F I and II

Canon® 8800F
Advantages compared to the OEM Canon® holder :
Film Formats:
Accepts 120 and 220

films that meet the ANSI width standards

Accommodates

"645", "6x6", "6x7", "6x9", 6x12, and "6x17" film

and scans up to 220 mm in one pass
Scan up to 4 "645" frames, 3 "6x6", 2 "6x7" or 2 "6x9" frames at once. Depending on the size of the gap between film frames, some 6x6 and 6x7 users may be able to shift the film in the holder in order to then scan an additional frame per strip.
The film scanning aperture/hole can scan 220 mm per pass from a strip and the film channel can accept a film strip up to 250 mm in total length
Full Frame Scanning:
Users can self-modify the film holder to allow for "full frame" scanning. This is a modification users complete themselves but a similar example can be found at the bottom of the webpage found here.
Low cost for a great design – only $79.95 (includes the ANR Insert)!

Click on the following links for important additional information regarding:
See How it Works!!!! - General Instructions for Using the VARIABLE Single Channel MF Film HolderTM
ORDER NOW - Pricing and Ordering
These Flags Represent Some of the Places Where Our
Product Owners are Located Worldwide!!!

For More Information, e-mail us at: scanning@betterscanning.com
All information contained in this website ©2021 by DSF OmniCorp, LLC and Doug Fisher. This information may not be reproduced in whole, part or spirit without written permission.
Patents Pending. All intellectual property rights reserved.