The 120/220 ANR Insert
An anti-Newton Ring glass insert accessory for our MF Film Holderä to be used with longer panoramic films and severely arched or curled film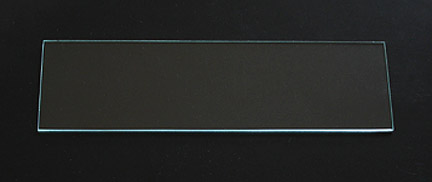 Details:
Alternative method to mount strips of film in the MF Film Holder

ä

while maintaining a high degree of film flatness over very short or long spans of film.

Wonderful with 120/220 film

Ideal for longer panoramic films
Helps "tame" severely arched or curled film when used with proper taping procedures

Helpful for smaller formats on an occasional basis – these can be taped to the insert for use in the MF Film Holder

ä

Compatible with both color and black-and-white film

Note - the

ICE

feature may not work well with anti-Newton Ring glass. Usually it works fine but the compatibility varies by film type, so there is a possibility that ICE may need to be turned off.

High quality

acid-etched anti-Newton Ring glass from Europe

Not low quality anti-reflective/anti-glare glass that is coated and can haze

Custom-fitted

models for use in our MF Film Holder

ä

as well as the Dual MF Film Holder

ä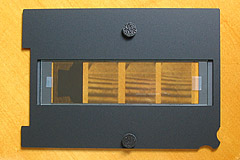 *MF Film Holderä is sold separately
Steady-handed users who were willing to modify their MF Film Holder

ä

(

1 mm

film suspension height versions only) by trimming the sides and/or ends of the soft and thin film channel ledge have expanded the capabilities of their MF Film Holder

ä

and ANR Insert.

DSF OmniCorp, LLC does not recommend for or against these custom holder modifications but is just informing you of custom modifications that have worked for others. Think before your cut. If in doubt, don't. The following are "idea generators," not complete modification instructions. DSF OmniCorp, LLC will not be responsible for any irreparably damaged holders.

"Full frame" scanning

- scan the whole width of 120/220 film (including the edge markings). This is accomplished by trimming off portions of the sides/ledges of the thin film channel so that they are flush with the thicker part of the holder. It can be done for a small section to just scan one frame as shown below. This will allow the holder to still scan normally without the ANR Insert and using the T-locks if desired (T-locks are now optional on single channel film holder versions).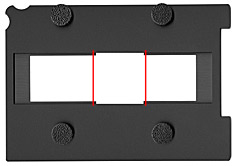 The entire lengths of the film channels can be removed in order to scan complete strips of film "full frame" but this requires that the ANR Insert and taping technique be used at all times from that point forward.

Increased scanning length

- scan pieces of film longer than 202 mm. (End trimming not applicable to Dual models!) The MF Film Holder

ä

ANR Insert is 230 mm long. Trim the ends of the soft and thin film channel to increase the length of the scanning aperture/hole.
Click on the following links to go to:
See How It Is Used!!!! - Using the 120/220 ANR Insert
ORDER NOW - Pricing and Ordering Page
Back to the Page You Were Previously Viewing
Safety, Return Policy, Warranty and Disclaimer Information
Batch Scanning Notes for the MF Film Holderä Page
These Flags Represent Some of the Places Where Our
Product Owners are Located Worldwide!!!

For More Information, e-mail us at: scanning@betterscanning.com
All information contained in this website ©2021 by DSF OmniCorp, LLC and Doug Fisher and it may not be reproduced in whole, part or spirit without written permission